KhumKaew Palace Khantoke
Vista Hotel

252/19-23 Phra Poklao Road,
Chiangmai 50200 Thailand
Tel. (053) 210663-4
Fax. (053) 214563

e-mail:
cmct@chiangmai-online.com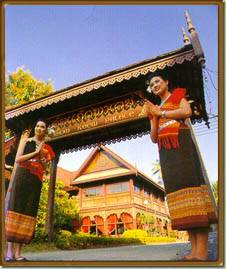 Discover the Legend of Lanna Thai at Khum Kaew Palace Khantoke.

Surround yourself with the grace and splendeur of centuries-old Lanna architecture in the style of Khum Chao Kaew Naowarat.

The Khum Kaew Palace Khantoke is proud to reflect the northern traditional treasure of Lanna atmosphere where guests are cordially welcome in a typical Chiangmai style. Most uniquely, the Lanna Cultural Art is portrayed through our sophisticated Khantoke Dinner - a northern specialty at the KhumKaew Palace Khantoke. Experience and meet the charming people of the north at the KhumKaew Palace - Home of the Lanna heritage.

chiangmai khantoke

Savour the delicate flavours of a traditional Khantoke Dinner, with all the customary dishes that have enlivened the cuisine of the Lanna for generations. Every detail of the meal has been carefully crafted to make it a feast for the eye as well as the tongue. Imbibe the totality of the Lanna atmosphere, enabling you to feel the true Northern Thai culture in all its tones of sensuous harmony.
THAI SOUP : FRESH MUSHROOM SOUP WITH CHICKEN
KANG HUNG'LE : PORK CURRY NORTHERN STYLE
KAO : STICKY RICE OR BOILED RICE
NAM PRIK ONG : CHOPPED PORK WITH TOMATO AND HERBS
POLAMAI : FRESH FRUIT
KAB MOO : CRISPY FRIED PORK SKIN
PUD PAK : FRIED VEGETABLE WITH PORK SHRIMP OR BEEF
NAM PRIK NHUM : SPICY CHILLI SAUCE NORTHERN STYLE WITH FRESH AND BOILED VEGETABLE
KAI TOD : FRIED CHICKEN
chiangmai khantoke

(6:00 p.m. - 9:00 p.m.)
Accompanying the Khantoke Dinner are the most fascinating local dances, colorful and rhythmic performances.

Our elegant dancers have been trained to present a traditional art of a true Lanna flavor. Admire the vitality and diversity of folk performances from all of Thailand's four regions, with a combination of sound, light, colour, and the dazzling costumes typical of each region.

*THE CARAVAN OF KHANTOKE DINNER AND CANDLE DANCE
*FON SAO MAI OR THE SILK WEAVING DANCE
*KLONG MONG SUENG OR MONG SUENG DRUM DANCE
*RABUM EKHO OR THE DANCE OF AKHA HILLTRIBE
*FON YOKEE TAVAI FAI OR THE BURMESE CLASSICAL DANCE
*KLONG SABUT CHAI OR THE BEATING DRUM DANCE
*FON MAN MUI CHIANG TA THE MIXTURE OF THE NORTHERN THAI AND BURMESE CLASSICAL DANCE
*RABUM LISU THE DANCE OF LISU HILLTRIBE
*RABUM KEP BAI CHA OR THE DANCE OF PICKING TEA LEAVES/ YAO'S HILLTRIBE DANCE
*RAM WONG THE THAI FOLK DANCE

You can make a reservation for the Khum Kaew Palace Khantoke Dinner now.

Food, show and transportation included:

Baht per guest

Or by telephone: (053) 210663-4 - mentioning the online price.
Please fill in the forms below and you will get a confirmation within 24 hours. Thank you.
(Or: Please contact: e-mail: cmct@chiangmai-online.com)
FREE pick-up at your hotel / guest house:


KhumKaew Palace Khantoke 252/19-23 Phra Poklao Road, Chiangmai 50200 Thailand

Tel. (053) 210663-4
Fax. (053) 214563