THE DRINKS PAGE
AN OPEN AND SHUT CASE
The Minister of the Interior calls it the 'New Social Order', others say it's 'Political Correctness', but Chiangmai's vital visitors are simply confused by our new, ever-changing rules on closing time(s).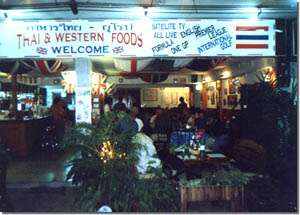 A change of hands at the Britannia Arms!
It was exactly midnight when the police truck with red lights flashing pulled up outside a group of bars near Thapae Gate mid last month. Instantly the bars' lights went out, the shutters came down and customers were suddenly gulping down their suds in bewilderment. "I thought it was one o'clock closing?" spluttered one. "No, it should be 1.30am, that's the law" retorted another. "What have we done wrong?" someone asked one of the policeman. He just smiled and drove away.
Drove around the block, came back past a go-go-club already closing (but he stopped to make sure they really did), then into Loi Kroh where some were open and some were shut.
"It used to be 24 hours opening for some, then it was closing at 3.00am, then late last year it seemed to stabilise at 1.30am" said a farang saloonkeep who promises to kill me if I name him. "Closing at 1.30am is alright by me and my customers. But I heard they are especially keen just now because the town has some very important visitors. Next week, we'll be back to 1.30am, mark my words!" And he was right.
As a denizen of the centre myself, I can selfishly say I've never slept better. No loud music, no rifle-shot pool breaks waking me at 4.00am. Just the usual dogs, the odd roaring tuk-tuk and the regular maniac on the unsilenced 2-stroke at 5.00am. Sheer bliss!
A less pleasant image resulting from the new order is the marked increase in young folks of all 3 sexes walking around after midnight seeking new friends. After their places are closed, freelancing, with all it's attendant, uncontrolled hazards, is on the up and up. But bare with me, as they say in the nudist camps, these are not my main points. Most folk are law abiding, that's how society functions. Sort of! Visitors and residents alike can adjust their carousing to avoid confrontation. Y'all just start sooner, dammit! But HOW can good tourist business cope with closing hours that are up and down like a fiddler's elbow? So to the men in uniform who are welcome to read this humble publication (and we know you do), I say "Happy 2002 and Can We Crave Consistency, Please?"
The more things change
Always look on the bright side of life. That's one of the more polite numbers sung by my Britmates late at night, so I'll go with the flow. John from the County of Derbyshire in those misty isles has newly wrought a few useful changes at The Britannia Arms in Anusarn Market (turn sharp right after the first speed bumps). A new window looks on to a spotless new kitchen, there are more user-friendly tables and chairs but thankfully my favourite local collection of steam trains and trams remains on the walls. The excellent Thai and Britnosh remains the same, as does the darts and the warm welcome from Khun Ladda. Look out for a small, good value, guest house growing up above. Previous incumbent Gerry is still in town at his original Cafe Loco in the Galare Centre.
JUST LIKE THE REAL THING?

Click for larger photograph

Almost! This metal bas relief of a Mitsubishi A6M2 Zero-Sen actually represents an aircraft of the 64th Sentai, wich was stationed here at Chiangmai. Framed in dark Thai timber, each piece is numbered and only 1000 pieces will ever be produced. Made by Thai craftsmen with care.

Measurement: 24 x 15 x 3.5 cm
PRICE: 1000 BAHT
PAYMENT CAN BE MADE ONLINE
VISA & MASTER CARD WELCOME
One local Thai host who has decided NOT to make a move is the very likeable, fluent-in-English-and-Thai Seksan, who will continue working hard at the Poolside Bar & Guest House, a sort of semi-independent part of the Prince Hotel. His lovely but remote Japanese wife has encourage him to stay on, so this place is now firmly OFF the market. Try his well-chosen action movies, darts board, virginally-pocketed pool table, ultra good value little steaks and, of course, the swimming pool itself.
A self confessed Singha addict for some 14 years, I had to come live here to drink it (see the price they charge for it at Thai places in the west??)! I always prefer the draft (sot in Thai) but rarely find it in farang frequented bars. But Dutch Frank and the lovely Khun Tay have it at TF Cafe, top of Loi Kroh, along with good live music and one of the most subtle, mind-bending, ball-curving pool tables I've ever failed to master. Play first, then drown your sorrows!
It's from an old English rugby song, slightly re-written for a family magazine, and dedicated to Chinese New Year and the re-incarnation of the Britannia Arms: 'Rule Britannia, marmalade and jam.
Five Chinese crackers in your handbag:
Bang! Bang! Bang! Bang! Bang!'
BUT I DON'T GIVE A CLUCK!

Night Fowl
.




Don't let your lover become your killer!
Happy, Idyllic, Valentines!
Interview with Dr Prakong, "The Godmother of HIV-infected children"
David Hardy


LET'S SPEAK THAI!
-No 4: Shop till you drop - but try to speak Thai!
Samantha Burman

Isaan shapes up to tourism
Reinhard Hohler


Chiangmai and the North


My Chiangmai
David Hardy

The Drinks Page
Night Fowl

Letters

Mountain People of Northern Thailand
Mounting worries about our mountain people


WHO WILL GET THE RED CARPET?
An unsuspecting tourist will be given the VIP treatment at Bangkok airport in November when he or she is counted in as Thailand's 10 millionth visitor of 2002.(...).

Click here to subscribe to the printed edition!