Mountain People of Northern Thailand: DOOMED DINOSAURS?
The problems faced by ethnic communities living in northern Thailand are similar to those faced by marginalised people in any part of the world - with a complex web of causes. A student of sustainable development outlines the challenges: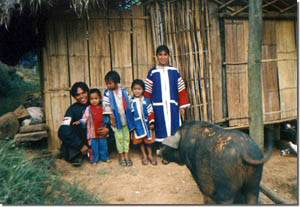 A happy young Lahu family north of Chiangmai, but what does the future hold for these children?
Some estimates suggest that there may be as many as a million ethnic people scattered throughout the hills in the north of Thailand, many of whom live below the World Health Organisation's poverty line. Poverty is perhaps the most visible and linking factor of their many pervasive problems, which fall into a number of broad categories.
Drugs
The first of the ethnic groups began to migrate to Thailand over 150 years ago, living from self-sustaining agriculture in the northern mountains, traditionally isolated from the rest of society. Today however, modernisation has reached the lives of most and there is now a growing tendency towards dependency on the cash economy. In many cases, this has led to other social problems, the most insidious of which being the illegal drugs trade.
Driven by the desire to improve their material lifestyle, or simply to feed their families, they involve themselves in the drugs market. Opium cultivation has been carried out by many ethnic groups but this has decreased by almost 90% in recent years. However, the use of heroine and amphetamines has led to a correspondent rise in HIV/AIDS, with an estimated 3,000 heroine addicts amongst the hilltribes.
Hard-worked hilltribe farmer, breath-taking beauty, but what of the future?
Deforestation
Much of the land on which the ethnic people live is becoming severely deforested and this has created severe pressure on the land available to cultivate; deterioration of fertile land and subsequent soil erosion. Further pressure has been caused by illegal logging, forest clearing for subsistence agriculture, the expansion of commercial agriculture in forest areas and development such as access to government services, construction of dams and tourism resorts.
Attempts by the government to reduce some of these problems include introducing legislation to protect the forests by creating National Parks with protected boundaries; relocating some villages to lowland areas (and in many cases to less fertile land); and introducing a reforestation programme. This has resulted in many villagers turning away from agriculture and their traditional lifestyles to find other sources of income. Another factor adding to the pressure on the land and available resources is the increased population growth of the ethnic communities, estimated at about 3% compared to 1.5% for Thais. As well as births, this includes the continuing refugee and migrant worker arrivals. It is impossible to assess the actual total because vast numbers cross into Thailand illegally.
In an effort to reduce the numbers of illegal migrants, the government has introduced controversial legislation to return them to their homelands. Illegal migrant workers and their Thai employers face high penalties, and Thailand recently refused to recognise large numbers of Shan in Chiangmai and Chiangrai Provinces as refugees, despite being driven from their villages in Burma - which were then immediately burned down.
However, there is a relatively new policy of granting citizenship to all people considered eligible, with some 480,000 applications still to be processed by August.
Health
Most villages have some form of health provision, often in the form of a clinic or visiting health worker. People who require hospital treatment often have to travel long distances and have no money to pay for transport or medical services. Their situation has been potentially improved by the new government policy which allows anyone in need - who can prove Thai citizenship - to obtain hospital treatment for only 30 baht per visit.
In the past, ethnic groups relied upon forest products for their medicines. However, traditional knowledge of herbal medicines is rapidly being lost, with the focus today more on modern, 'western' medicine. This has increased reliance on the cash economy to pay for medical services.
Education
Although all ethnic children today have, in theory, the opportunity to attend school, in practice they have less access to educational services than other sectors of the population. There are still many villagers who have long walks to the nearest school, and even more children now attend 'live-in' schools far away from their villages, returning home only during holidays. Some justify this by citing the lack of qualified, reliable, teachers prepared to travel to remote areas - others say that removing the children from their homes and cultures is the first step in the destruction of these communities.
At present, 39% of all Non-Government Organisations working with ethnic communities focus on educational issues. Schools run on the Thai curriculum, do not follow seasonal changes and so it is difficult for ethnic families to combine children's schooling with their agricultural cycles. The Thai government's intention is to integrate these people into mainstream economic activity, particularly through education in the Thai system, but many would argue that this has led to a deterioration of those ethnic cultures.
Tourism
Despite tourism bringing incomes into many villages, there are certain small tourism sectors which have created a poor image for the industry, and have had a marked negative impact on ethnic groups.
Many villages have become little more than human zoos, where tourists are taken into villages in groups to wander around with little understanding of the culture - and leave with little more than the exotic impression given to them by their guide. As more tourists come, more commercial products appear to sell to the visitors. The villages become yet more reliant on the cash economy, which in turn has a marked effect on their traditional cultures.
Tourists came to give clothing to this Akha village, but the lady is more interested in cash
The big question remains: what does the future hold for the ethnic groups of northern Thailand? Certainly their material situation has improved over the years, but such successes have been accompanied by all the social problems associated with modern industrial society.
As with other societies, change is happening all the time - but here in northern Thailand the scope and speed of change forced upon minority cultures is alarming! Government officers, development workers, missionaries, agencies, tourists, drug traffickers, sex trade touts, illegal loggers, land speculators and others with vested interests all exert their influence on the ethnic people's long held ways of life.
This is diluting their cultures and knowledge - perhaps to the point of extinction - and that would surely be the biggest loss to us all.
JUST LIKE THE REAL THING?

Click for larger photograph

Almost! This metal bas relief of a Mitsubishi A6M2 Zero-Sen actually represents an aircraft of the 64th Sentai, wich was stationed here at Chiangmai. Framed in dark Thai timber, each piece is numbered and only 1000 pieces will ever be produced. Made by Thai craftsmen with care.

Measurement: 24 x 15 x 3.5 cm
PRICE: 1000 BAHT
PAYMENT CAN BE MADE ONLINE
VISA & MASTER CARD WELCOME
.




Don't let your lover become your killer!
Happy, Idyllic, Valentines!
Interview with Dr Prakong, "The Godmother of HIV-infected children"
David Hardy


LET'S SPEAK THAI!
-No 4: Shop till you drop - but try to speak Thai!
Samantha Burman

Isaan shapes up to tourism
Reinhard Hohler


Chiangmai and the North


My Chiangmai
David Hardy

The Drinks Page
Night Fowl

Letters

Mountain People of Northern Thailand
Mounting worries about our mountain people


WHO WILL GET THE RED CARPET?
An unsuspecting tourist will be given the VIP treatment at Bangkok airport in November when he or she is counted in as Thailand's 10 millionth visitor of 2002.(...).

Click here to subscribe to the printed edition!