Chiangmai and the North
FRUITFUL ELEPHANTS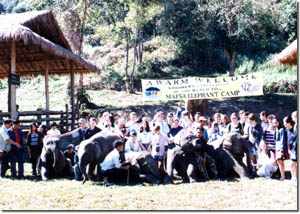 --
Thailand's newly designated National Elephant Day, March 13th, will be celebrated at Maesa Elephant Camp with a huge banquet of fruit for the star attractions.
The 'Elephant Kantoke,' supported appropriately by Beer Chang, honours in particular 4 young elephants born 2 years ago and 5 newly expectant mothers.
A selective mating programme has been established at the Camp to counteract the losses in the Thai elephant population which have resulted in them being classed as an endangered species.
More details on the Kantoke "mountains of fruit" party and Elephant Nursery come from (tel.) 297060 and e-mail <maesaele@loxinfo.co.th>.
Lampang's new plan
What would become the biggest elephant sanctuary in South East Asia is being planned north of Lampang, adjacent to the existing Elephant Hospital.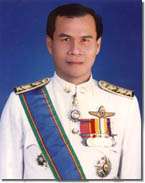 Khun Peera Manatas - Lampang Governor
"We have a plan to build the centre, starting next year, in an area of 300,000 rai, with a budget of 4-500m baht from the World Bank" said Lampang Provincial Governor Khun Peera Manatas recently, as 16 more elephants were released into the wild. Several kwan chang (mahouts) are following the animals to monitor their progress. To mark the 72nd birthday of His Majesty King Bumiphol, Her Majesty Queen Sirikit had already released 72 elephants into the huge Lampang forests.
Khun Peera's enthusiasm for the new plan is good news for elephant activists, horrified by a new government proposal to move hundreds of northern elephants to an artificial park in Bangkok.
CAMBODIA+PEACE=TOURISM?
Tourism in Cambodia leapt by an amazing 41% during 1999 due to "improved political stability", they say, and easing of the Asian recession.
Arrivals by air in Phnom Penh and Siam Reap, close to Ankor Wat, and other entry points totalled 644,334. The visitors spent around US$126 million and were mostly American, Chinese and French nationals.
Many cross border arrivals from Thailand were short term visitors to nearby temples and casinos. Growth in Cambodian tourism this year was predicted at 35%, just prior to an announcement by the national landmine clearance agency that it would close on March 25th due to lack of funds.
Remote possibilities
Remote possibilities This year the Tourism Authority of Thailand will concentrate on developing new destinations in "remote areas" of the provinces. The TAT Governor promised co-operation with neighbouring countries but gave no specific details.
NICE TO BE SHANGHAI'D
You'll enjoy exploring Chiangmai's new twin city Shanghai, especially if you choose one of 2 up-market hotel promotions from the JC Mandarin and the new 481 room Holiday Inn. Mandarin clients paying US$95 have free welcome drinks, breakfasts, Dim Sum lunches and use of the fitness centre. Fax 86-21 6279-2314 or e-mail to <marcom.sim@meritus-hotels.com>.
UK-based Bass Hotels & Resorts have opened the Holiday Inn at Zha Bei, north east of the international airport. For info on discounted opening room rates until March 31st fax 852 2968-4748 or e-mail <roytan.hardy@basshotels.com>.
BANISHING THE BANGERS?
Old bangers loudly belching black smoke should steadily disappear from Chiangmai's roads now that official inspections are mandatory. Since January 1st, any car, pick-up or minibus 7 years old or more (and any motorcycle 5 years old or more) must pass an inspection before it's next tax disc is issued. Car fees are 250B (over 1.6 tons), 150B (under 1.6 tons) and 60B for motorcycles. If the test is failed and the vehicle re-presented within 15 days there is a 50% discount for the re-test. The only exceptions are vehicles in the process of changing ownership, colour or province of registration. Over 30 inspection garages have been appointed and a full list is available from the Land Transportation Department, Hang Dong Road (tel. 278273 or 270411, Thai only). Only excessive noise and foul smoke are being checked, we hear.
ROUND AND ABOUT
* Saturday March 4th is voting day for the first ever Senate elections in which 51 candidates contest 5 Chiangmai seats. (In Lampang, 13 people fight for 3 seats). Amid advance warnings of vote buying, 13 of Chiangmai's hopefuls failed to attend a 'clean campaign' oath-taking ceremony on February 22nd.
* Brothers Mark and Kung offer yet another unusual service fresh from their native Netherlands. Mark now has Lot Talod at 14/12 Soi 4, Chotana, which sells second hand goods - and all prices reduce by 5% per week until they go! Kung runs Dutch Circle at 123/1, Rakaeng Rd, off Changklan, which rents out packs of Thai language magazines which are updated monthly. Both shops also offer Payway, a low cost one-stop bill paying service. More on (tels) 410677 and 819050.
* A "green friendly" place with food as varied as French quiche and Vietnamese noodles is The Teashop on Huay Kaew, run by Khun Nid. Opposite Chiang Mai University and among the computer schools, it also serves wine and beer to those who don't have to concentrate quite so hard.
* A Buddha image and what is said to be the largest Tad (dish) in Chiangmai will be cast during Wat Srisupan's 500th anniversary. The ceremonies will take place on March 30th at 3.00pm and April 1st at 9.00pm and all are welcome at the temple off Wualai Rd. More on (tel.) 200332.
* Weekly groups for those interested in creative writing, controlling their eating, developing healthy relationships and improving English conversation are held at Raintree, east end of Nawarat Bridge. More info on (tel.) 262660. Monthly meetings are held for pre-schoolers and on March 18th there's a sa paper making workshop.
* Interested in the spirits of nature? You could learn a lot from the next Informal Northern Thai Group talk on March 13th, 'Animism among the Hani-Akha' by Dr Leo Alting Von Gesau. Venue as usual is the Alliance Francaise, Charoenprathet Rd, time 7.30pm.
* The annual Chiangmai International Cricket Sixes takes place at the Gymkhana Club from April 4th-9th, sponsored by Kloster. All we know so far!
* Be warned: the Airport Post Office, formerly open 8.00am to 8.00pm every day of the year, now closes for lunch 1.30pm to 2.30pm and some national holidays.
THE MATURE VIEW
Older folk's opinions of Chiangmai as a holiday destination made interesting reading in the 'Bangkok Post' recently.
Poor sidewalks, inflated 'seelor' fares and city pollution levels were the main criticisms of hundreds of over 55's from UK and USA.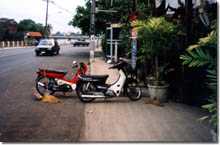 ---
Top travel writer Imtiaz Muqbil balanced the scales by reporting that safety, high quality medical services, good value shopping and a relaxing atmosphere were among the plus points.
The clients of the big UK-based Saga tour company enjoyed gentle activities such as cookery and flower arranging. Tai Chi had not taken off and some guests were wary of potentially painful massages (see last month's issue).
Talks on Buddhism by a Saga agent who was a former monk had aroused a lot of interest among the folk in this market sector who, say TAT, spend an average of 3,600B each per day!
Long stays of 2 to 8 weeks were commonplace in this group, good news for the hotels involved such as the Mae Ping, Amari Rincome and Eurasia.
Handling the "mature market" was not easy and required specialisation, a Saga spokeswoman told the 'Bangkok Post', in fact TAT has been asked to stage a conference on the subject. Maybe they were referring to the irascible old guy we heard of who swallowed a big spoonful of 'nam prik' before a buffet was opened and all the dishes had been labelled? He collapsed, choking and spluttering, was brought round with cold melon but threatened to sue all concerned. Maybe Thailand's lack of liability laws is OK after all?
STRAWBERRY FIELDS, FOR EVER ORGANIC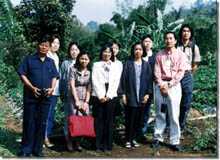 ---
A party of Japanese students were given a tour of organic strawberry fields by Khun Anusorn Nopparat (left), Mae Rim Agricultural Officer. The Agricultural Technology Centre at Pong Yang works on non-toxic cultivation of this, one of the north's most popular seasonal fruits.
Meanwhile, one of 15 projects put on hold by the Agriculture Ministry due to "lack of proper business plans" is a 132mB cold storage warehouse for Chiangmai.
SILVER DOVES, HOVERING!
Forty-plus enlightening souls from 9 nations took part in the first Silver Dove Congress at the Chiangmai Garden Hotel, February 14-19. Topics ranged from healing, hypnosis, birth, therapy and fasting to yoga, astrology and, not least, peace. One of many high points was an outstanding presentation of hypnotism by Goh Chooi Chin of Malaysia, who took 'Good Morning Chiangmai' correspondent Rachel Flower into a state where she rigidly lay between two chairs with someone sitting on her waist. More information comes from organiser Katharina Bless on (tel.) 297407 and a more detailed report appears next month. Edward Rose
ALIEN CHANGES
Maybe too late to cause anything but worry, national news on February 23rd revealed an important legal change affecting foreign businesses, effective from March 3rd. The new Alien Business Act can be broken by a company, established as a Thai legal entity, with preferential shares empowering minority foreign shareholders to control the company, i.e. with voting rights and dividends. Thais assisting in forming such companies - or holding shares on behalf of foreigners - can also be charged with breaching the Act. Penalties are fines of up to a million baht and/or up to 3 years in free but uncomfortable accommodation. Advice from the reliable Thaivisa.com, is to transform such a company into a foreign one, fast. Also, companies needing certain types of licences will, after March 3rd, have to apply to a 21-member Alien Business Board.